M.D. in
Pre-Med and MD program
Xavier University School of Medicine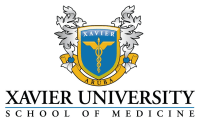 Introduction
Xavier offers a 5.5-year program for students who wish to enter medical school straight out of high school. This gives students a 1.5-year jumpstart on pre-med courses that will accelerate their entry into Xavier's medical program — upon completion, of course, of all other pre-med requirements.
Students complete the first part of their education over the course of two years on the Xavier campus in Aruba. Through Basic Science, they construct the essential foundation upon which to build a successful and fruitful medical career.
Our highly regarded faculty includes professors and lecturers from around the world who represent a broad swath of academic and clinical global expertise. Each student benefits richly from the deep experience and diverse perspectives of these instructors.