MSc in
MSc in Biomedical Engineering
Tufts University - School of Engineering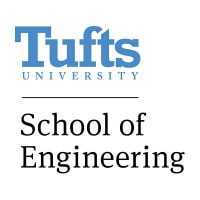 Introduction
Leading education and research in biomedical engineering to improve human health
Biomedical engineering is a discipline of growing importance in society and is a vital and growing part not only of the Boston area but also of the whole US territory infrastructure – industry, academics, and hospitals. The field of biomedical engineering has been growing rapidly in the past few years. This expansion is due to many factors, including:
scientific and technological advances in molecular and cell biology, materials science and the engineering disciplines;
the increasing recognition of the role of interdisciplinary strategies to solve complex biomedical problems;
the ageing of the population leading to increased healthcare needs and the associated demands and costs.
The Biomedical Engineering Department at Tufts University reflects these themes and offers comprehensive education and research opportunities to students, faculty, and industry interested in the pursuit of this topic.
Established at Tufts University in September 2002, the Biomedical Engineering Department is located in the Science and Technology Center (4 Colby Street, Medford, MA), a state-of-the-art research and teaching facility, which also houses cutting-edge interdisciplinary research activities of the Tissue Engineering Resource Center.
Curriculum
The Biomedical Engineering Department offers programs leading to the Master of Science (M.S.) and Doctor of Philosophy (PhD) degrees, as well as a certificate program for those seeking professional development or as a gateway to the M.S. program.
The School of Engineering also offers a cross-departmental, interdisciplinary bioengineering (M.S.) program that provides a broad engineering and biotechnology curriculum, while offering a focus on a specific engineering track that best fits students' interests and career choices. This combination gives our bioengineering graduates professional flexibility, a distinct competitive advantage in the ever-changing field of bioengineering.
Also of interest for prospective students is the Joint-Ph.D. in Materials Science and Engineering.
Core Courses – Biomedical Engineering Graduate Program
Principles of Biomedical Engineering - The role of biomedical engineering in the diagnosis and treatment of various pathologies such as cardiovascular disease, cancer, diabetes, and neurological disorders.
Analytical Tools of Biomedical Engineering - Statistical methods of data analysis with emphasis upon biomedical applications.
Molecular Biotechnology - Overview of key aspects of molecular biology and engineering aspects of biotechnology. Topics include molecular biology, recombinant DNA techniques, immunology, cell biology, protein purification, fermentation, cell culture, combinatorial methods, bioethics, and bioinformatics.