Certificate in
Certificate in Biomedical Engineering
Tufts University - School of Engineering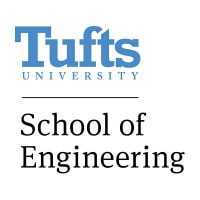 Introduction
The booming biomedical industry demands skilled professionals whose expertise can cross the traditional boundaries of science and engineering. Companies are seeking electrical engineers who understand the medical uses of diagnostic imaging instrumentation, biotechnology professionals with training in tissue engineering to develop tissue implants, and mechanical engineers who are well-versed in biomaterials to design artificial joints.
Ideal Students
Who Should Apply?
The program is open to students with at least a bachelor's degree in engineering, science, or health science.
Students interested in earning a graduate degree can often apply the certificate courses toward a Tufts master's degree in biomedical engineering.
Curriculum
Program of Study
The certificate requires four courses.
One biomedical engineering introductory course:
BME 250 Principals of Biomedical Engineering or
BME 162 Molecular Biotechnology (key aspects of molecular biology and engineering aspects of biotechnology).
One physiology course:
BME 121/122 Quantitative Physiology I & II (modules include: General, Neurology/Nose, Skeletal/ Bone, Respiratory, Cardiovascular, Renal, Gastrointestinal, Endocrine, Eye, Dental).
One engineering elective in Biomedical Instrumentation, Biomedical Optics, Biomaterials, Biotechnology, or Tissue Engineering.
One capstone course:
BME 100 Design of Medical Instrumentation or
BME 153 Biomaterials and Regenerative Medicine.
This certificate is offered in collaboration with the Tufts Department of Biomedical Engineering and the Tufts Tissue Engineering Resource Center.
The Tufts Tissue Engineering Resource Center integrates strong research programs in biotechnology, biomaterials and tissue engineering, biomedical instrumentation, biomedical optics, and drug discovery into a new, collaborative 'mega-center' offering unique options for graduate-level study.
Program Outcome
The certificate in biomedical engineering addresses this need through a highly interdisciplinary course of study that allows students to focus on biomedical instrumentation, biomedical optics, biomaterials/biotechnology, and tissue engineering or other related areas of study. Courses are taught by faculty in engineering as well as experienced clinical professionals from Tufts' world-renowned health science schools.
Career Opportunities
With this certificate, engineers can launch careers in biomedical instrumentation design. Clinical practitioners and technicians can shift careers to biomedical equipment sales. It is also a useful technology complement for executives, medical professionals, and policymakers interested in the application of technology to the medical, business, or the legal profession.