MBA in
Master of Science in Healthcare Administration
The Continents States University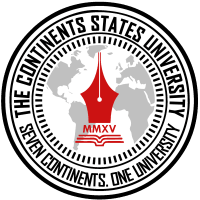 Introduction
The Master of Science in Healthcare Administration prepares individuals to work with specific populations and communities and improve awareness, education, policy, and research. This degree differs from many other advanced master's degrees in management. It allows students to grow in a specific healthcare administration area, deal with healthcare administration policies and medical statistics problems, and graduate hands-on. The program will provide students with a more advanced understanding of the basic disciplines of healthcare administration requirements and the possibility of advancing knowledge in a specific domain.
Program Features
Annual-Tuition (Membership) based program.
Available 100% online with the support of competency-based education options.
Programs are to be completed in twelve months.
An internship or externship is not necessary for graduation.
Degree program accredited by Accreditation Service for International Schools, Colleges, and Universities.
Why should you consider our university
Veteran-founded educational institution
Dedicated student support team 24/7
No fixed schedule for attending live courses
No limited time to transfer credit
Accessible online courses
Four-weeks course structure
Supported by library resources through LIRN
Military friendly school
Internationally accredited
Curriculum
Courses are taught in English, and students are expected to learn about APA, write in article format, engage in weekly workshops, and participate in development training groups with hands-on training.
Establishment Course | Non-Credit Course
Competency-based | English | ENV 5030 Environmental Ethics and Justice
Competency-based | English | BUS 5010 Business Management
Competency-based | English | BUS 5002 Operations Management
Competency-based | English | SER 5050 Customer Service
Competency-based | English | COM 5411 Public Relations
Competency-based | English | BIO 5010 Microbiology
Competency-based | English | COM 5010 Human Communication
Competency-based | English | BUS 5014 Strategic Management
Competency-based | English | BUS 5040 Business Statistics
Program Outcome
Upon completion of the Master of Science in Healthcare Administration program, students will
Execute healthcare administration knowledge and handle healthcare administration policy issues.
Demonstrate and maintain healthcare evaluation and development programs.
Analyze the quality and strengths of specific health policy issues research and outcomes.
Playing quantitative tools and methodologies in evidence-based health policy analysis and evaluation.
Fostering the identification and realization of individual students' unique personal and professional goals.
Graduates will execute competencies related to planning, implementation, and disease prevention programs.
Preparing graduates to use communication and administration skills to lead the health agencies in decision-making.
Career Opportunities
The employment of health services managers is projected to grow 32 percent from 2020 to 2030
Bureau of Labor Statistics expects healthcare administration Services Managers' employment to grow by 18% over the next several years, with job openings for around 250,000 new Healthcare Administration professionals.
Graduates can obtain jobs as Healthcare Directors, Biostatisticians, Epidemiologists, or Healthcare Administration professors.