Bachelor in
Professional Bachelor in General Practice Nursing
SMK University of Applied Sciences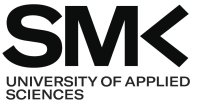 Program Outcome
After studies you will be able to:
Assess the nursing needs of the patient, family, and community and plan the nursing process in a responsible manner;
Prepare patients for instrumental tests and examinations and medical intervention procedures in a responsible manner;
Identify life-threatening conditions, and assess and tackle them in an effective way;
Assess and perform nursing activities and procedures;
Develop healthy lifestyle habits and behaviors of the patient, family, and community.
Curriculum
You will study:
Anatomy, Physiology;
Microbiology, Virology, Immunology;
General Nursing;
Pharmacology;
Geriatric Nursing;
Clinical Nursing;
Community Nursing;
Obstetrical Nursing;
Child Nursing;
Physical and Rehabilitative Medicine;
Mental Health Nursing;
Surgical Care;
Intensive Care.
Career Opportunities
Primary, secondary, and tertiary level health care institutions;
Institutions providing social services;
Nursing homes for healthy and disabled people of different age groups;
Private health care institutions;
Hospices and palliative care institutions;
Disabled and old people's homes
Nursing homes, special care facilities;
Educational establishments and boarding houses for children.