Courses in
Healthcare Assistant Program
Gateway College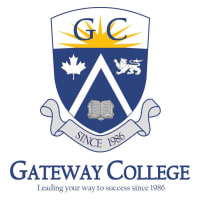 Introduction
This healthcare assistant program is designed to train learners to become Health Care Professionals. Our dedicated and experienced instructors will provide quality education with hands-on training to prepare students for the real world. Students will practice their techniques in labs equipped with articulated mannequins, hospital beds, medical gear, and fixtures. Furthermore, students will participate at a designated facility or a hospital and interact with patients throughout the practicum training period. This healthcare assistant training program will help students learn proficiency and the confidence most needed on a job. Our graduates work in both private and publicly-funded facilities and hospitals as well as a variety of community settings. These may include extended care, intermediate care, assisted living, acute care hospitals, home support, rehabilitation facilities, and group homes. HCAs work as part of a team within a health care unit under the supervision of a health care professional such as a registered nurse or licensed practical nurse.
Start dates
For the Year 2022, starting dates February 7, June 6, and October 3 are available now.
Important Information
Effective September 2016, Gateway College will be implementing the HCA Provincial Curriculum 2015 into all the HCA courses. Graduates of the Health Care Assistant delivered by Gateway College are eligible for registration with the BC Care Aide & Community Health Worker Registry.
This program has been approved by the registrar of the Private Training Institutions Branch (PTIB) of the Ministry of Advanced Education, Skills & Training.
Student loans are available for qualified domestic students.
Job Titles: Health Care Assistant, Resident Care Attendant, Long-term Care Aide, Home Support Worker, Personal Care Attendant, etc.
Credential: Diploma
Hours: Monday to Friday, 9 am to 3:30 pm
Length: 755 hours over 32 weeks
Delivery Mode: Traditional (In-class) or Combination (Online+On-site)
Campus: Vancouver, BC
Tuition and Fees
Non-refundable Application Fee: $250 (Domestic)/ $300 (International)
Tuition: $3,565 (Domestic)/ $10,640 (International)
Textbooks: $135, Materials/Supplies: $450, Lab: $20, Student ID: $10, Program Processing: $150, Administration: $150, Health Insurance*: $165 (3 months coverage wait period for BC Medical Service Plan)
* Optional, only if applicable.
Admission Requirements
Applicants must be at least 19 years of age prior to starting the study period or must be graduated from grade 12. (or equivalent)
Applicants must provide proof of meeting English language competency requirements. (Please refer to the language proficiency policy.)
The following are to be completed prior to the first practice education experience:
Proof of meeting current immunizations/vaccinations as per health care organization policies/guidelines (or signed vaccination exemption form, except TB)
Criminal record check from the Ministry of Justice, including clearance to work with vulnerable adults *
First Aid
CPR Level "C" or "HCP"
FoodSafe Level 1 (or a course deemed equivalent)
Provincial Violence Prevention Curriculum (PVPC) E-Learning Modules
* Additional Police Certificate from the country of origin, including clearance to work with vulnerable adults, is required for international students.
Language Proficiency
For applicants whose first language is English, evidence of one of the following test scores:
Provide transcript or proof of completion of Grade 10 English, or
College courses determined to be equivalent to completion of Grade 10 English by post-secondary institutions (minimum C grade is acceptable)
Other tests such as the Canadian Adult Achievement Test (CAAT), Language Placement Index (LPI), or Accuplacer may be accepted.
For applicants whose first language is not English/ International students, evidence of one of the following test scores:
| | | | | | |
| --- | --- | --- | --- | --- | --- |
| English Proficiency Test | Overall Score | Speaking | Listening | Writing | Reading |
| IELTS ** | 6 | 6 | 6 | 5.5 | 5.5 |
| TOEFL (IBT) ** | 76 | 20 | 20 | 18 | 18 |
| CAEL ** | 60 | 50 | 50 | 50 | 50 |
| CLBPT * | n/a | 7 | 7 | 6 | 6 |
| CELPIP ** | n/a | 7 | 7 | 6 | 6 |
| CELBAN ** | n/a | 7 | 7 | 6 | 6 |
* CLBPT test is only available for students currently in Canada. The test result is valid for one year. (a CLB Report Card from a LINC Program may also be accepted.)
** The test result is valid for two years.
What to Expect - Program Schedule
Upon successful completion of the Health Care Assistant program, students will be granted the following credentials:
Health Care Assistant Diploma
Dementia Certificate
Medication Administration Certificate
HCA Acute Care Certificate
Provincial Violence Prevention Certificate
*Eligibility to register with the "BC Care Aide & Community Health Worker Registry.
Program Schedule
Week 1-21 (On-campus*, 9:00 am – 3:30 pm): Theory courses
Week 22-25 (On-campus, 9:00 am – 3:30 pm): Healing 3: Personal Care and Assistance (lab training)
Week 26-32 (On-site, variable 40 hours a week schedule): Work Experience courses
* In-class instruction Delivery only
Healthcare Assitant Program Outline
Concepts for Practice (theory, roles, law, organization)
Interpersonal Communications (empathy, medical terms)
Anatomy and Physiology (intro to body systems)
Lifestyle and Choices (activities of daily living)
Personal Care Skills (hygiene, comfort, simple treatments)
Caring for Common Health Challenges (life cycle)
Mobility Techniques (body mechanics)
Pharmacology (assisting with medication delivery)
Gerontology (study of aging process, demography)
Cognitive and Mental Health (including addictions)
Dementia (causes, stages, behaviors, Alzheimer's Disease)
Palliative Care (end-of-life care, pain management, grieving)
Family Dynamics (culture, diversity, domestic violence)
Nutrition (menu planning, diet, Canada's Food Guide)
Safe Work Practices (infection control, fire safety)
Assault Response (defensive and preventive skills)
Professional Development (transitions, employment skills)
Basic Computer Skills (Word Processing, Email, Internet Search, etiquette) *
Acute Care (Acute Care Settings, Roles of HCA in Acute Care) *
Courses
Health and Healing: Concept for Practice
Health Care Assistant: Introduction to Practice
Health 1: Interpersonal Communications
Health 2: Lifestyle and Choices
Healing 1: Caring for Individuals Experiencing Common Health Challenges
Healing 2: Caring for Individuals Experiencing Cognitive or Mental Challenges
Healing 3: Personal Care and Assistant
Practice Experience in Home Support and/or Assisted Living
Practice Experience in Multi-Level and/or Complex Care