MSc in
MSc in Biomedical Engineering
Eindhoven University of Technology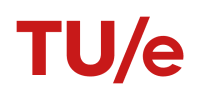 Introduction
Biomedical engineering is a relatively new discipline that is up-and-coming. Modern technology has become an inextricable part of medicine and healthcare. That means there is a growing need on both the technological and the healthcare side for people with a grasp of increasingly complex biomedical problems.
NVAO accreditation
This program is legally recognized and accredited by the Accreditation Organisation of the Netherlands and Flanders (NVAO).
Curriculum
Profile of the biomedical engineer
Biomedical engineers specialize in solving technological problems that require an understanding of how the human body functions. They combine a knowledge of the synthetic and analytic methods of physics and chemistry, computational methods of mathematics, and measurement and control systems of electrical engineering with a thorough medical and biological foundation.