Associate Degree in
Associate Degree in Medical Billing and Coding
Davis College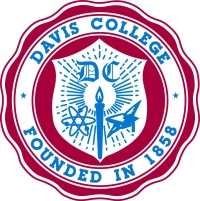 Admissions
Your New Future Starts Here
Ready to take the first step? Davis College is ready to help you reach your full potential. The Davis College Admissions team will work with you personally, making sure the admissions process is straightforward and easy.
The First Step
You will be considered eligible to apply for admissions once you have completed your high school graduation requirements, or have successfully completed the General Education Development Test (GED). Once this information has been submitted to Davis College, the process of formal acceptance will begin.
To begin the process, Apply Online today.
Experiential Learning Credit
Thanks to the assessment of Prior Learning, you can turn your previous learning into college credits. Skills and knowledge acquired from a combination of work experience, non-credit courses, seminar training, and workshops can potentially turn into college credit.
Applying for Prior Learning college credit is a great way to get a head-start in your career training. Prior Learning college credits can reduce the overall cost of college education, lower the number of courses needed to complete a program, shorten the time it takes the graduate, and can often be transferred to other colleges and universities.
College credit may also be applied for CLEP scores using the ACE recommended score for a particular exam.
Transferability
Credit for Prior Learning may be transferable at the discretion of other institutions and/or accrediting bodies.
Fee: The fee for Credit for Prior Learning is $100 per credit hour. (Federal financial aid may not be used to pay this fee.)
Credit hours earned for Prior Learning shall not exceed fifty percent (50%) of the total hours of the program in which the student is enrolled.
Scholarships and Funding
Financial Aid Support
Career training is one of the most valuable investments you can make. Davis College helps by making this process easier. Our Financial Aid advisors will work with you to build a plan of how you can fund your education. They will help you determine your eligibility and provide options for a Federal Pell Grant, student federal aid options, the Davis College plan, and more.
Career Opportunities
Exciting Career Opportunities
Once you have completed your training as a Medical Billing and Coding professional, you will have the skills to pursue a variety of rewarding careers,
Medical Coder
Coding Specialist
Billing Reimbursement Specialist
Accounts Receivable Specialist
Account Representative
Intake Specialist
Medical Claims Analyst/Reviewer
Worker's Compensation Claim Examiner
Health Claim Processor
And more!
How Davis College Prepares You for Success
The Medical Billing and Coding programs at Davis College are specially tailored to get you into the field with confidence. Career training highlights your commitment and dedication and is a great way to showcase yourself to potential employers who are always looking for trained professionals.
During your Medical Billing and Coding classes, you will cover a variety of topics in many interesting and engaging courses, including,
Medical Terminology
Anatomy and Physiology
Coding and Applications
Electronic Health Records
Advanced Billing and Coding
At Davis College, you won't be alone. Throughout Medical Billing and Coding school, you will be given exceptional support from your instructors who will help you to put your best foot forward into the job market.
Externship and Career Services
Near the end of your training at Davis College, you will complete an externship, giving you the workplace confidence you need to pursue your career goals. Your externship will let you apply your new Accounting and Human Resources skills, and help you gain relevant work experience.
Davis College is dedicated to your employment success and provides you with resources to help you achieve a rewarding career, helping you worry less about getting into an exciting new career. The Career Services Office is your link to the Toledo business community. You will have access to resume writing strategies, portfolio development, job search techniques, and more.