Master in
Master in BIOMEDICAL AND CLINICAL ENGINEERING
Czech Technical University in Prague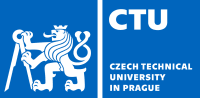 Introduction
It is a university degree, which is part of structured higher education studies according to the Bologna Declaration. It is only possible to be studied full-time with the standard length of study 2 years. Upon graduation, i.e. after a successful defense of a master thesis and passing a final state examination, the graduate obtains a Master's degree (abbreviated as M.Sc.).
Goals of study
Study branch Biomedical Engineer prepares, as part of a study program Biomedical and Clinical Technology, mainly practically oriented graduates as well as future students of the follow-up doctoral study programs at FBME CTU but also at other universities in the Czech Republic and abroad.
The graduate of the master study program will have knowledge of biomedical and clinical technology mainly in the following areas:
Theory, methods, and procedures of signal and image processing.
Therapeutic and diagnostic devices.
Legal, economic, and managerial issues in health care.
The application of mathematical and scientific disciplines in biomedical engineering will enable further development and deepening of the graduate's professional profile in line with current development in biomedical and clinical technology.
Profile of the study program graduate
Graduates with a biomedical engineer qualification are able to operate, inspect, and maintain diagnostic and therapeutic equipment and software within the healthcare facility, including assistance to physicians during the examination of patients. They are able to provide activities related to the registration and operation of medical equipment, to evaluate cases of failure, and to create concepts of preventative measures against these failures. Graduates can participate in the acquisition of medical diagnostic and therapeutic equipment, including specification of requirements and carrying out tenders. They are able to train technical staff in the field of medical diagnostics and therapeutic techniques and work safety. Given the ability to engage in developmental and scientific research work, especially of an experimental nature, graduates can also find jobs in companies and institutions involved in the development, production, sale, and servicing of medical devices, or creation of software for diagnostic and therapeutic devices and methods intended for health care.
Fields of Study
Entrance Exams
Yes (Motivation Letter and Interview in English)