MSc in
Master of Science in Occupational Therapy
Allen College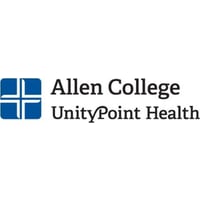 Scholarships
Explore scholarship opportunities to help fund your studies
Introduction
Occupational therapy involves the holistic use of normal daily occupations to help individuals across the life span participate to their highest level in meaningful and purposeful activity. The ultimate goal is to support life satisfaction through optimal participation and engagement within one's own contexts. Occupational therapists (OTs) are trained to use occupation-based interventions to promote health, enhance, restore, maintain function, and/or prevent further disability. By working cooperatively with other health care professionals and engaging in evidence-based intervention, OT's can support clients in achieving the highest possible level of independence.
The Allen College Master of Science (MS) degree in occupational therapy requires approximately 27 months of classroom and fieldwork preparation. Program content supports the student in learning to reason critically, effectively judge the current evidence, and develop quality skills necessary for delivering occupation-based, client-centered care that is culturally appropriate and respectful. Fieldwork experiences are scheduled in each semester of the program to build the student's direct services skills and assure that they are well versed in the foundational operations of various practice settings. Additional outreach service experiences are designed to help the student develop advocacy, management, leadership, and skills for use in various practice settings.
As graduates of the program, these students will emulate the institution's core values of caring, community, integrity, learning, quality, and accountability.Thesevalueswill prepare them toembrace diversity, social responsibility, leadership, partnership, and professionalism in all personal and professional endeavors. Life satisfaction results from successful participation in valued occupations that are appropriate to our current surrounding contexts. The students in the Allen College OT Program will collaborate with clients, families, and other support systems to develop care plans that match client capacities and support the development of new skills necessary to meet their current health care needs. Ultimately, graduates of the program will be prepared to practice with a clear understanding of emerging trends in global health and will be able to employ social justice values as they assist their clients in reaching desired health care outcomes.
The program graduates are eligible to sit for the national certification exam administered by the National Board for Certification in Occupational Therapy (NBCOT). After successfully completing this exam, the individual will be an Occupational Therapist, Registered (OTR).