Ba health and care management
Home ›
BA ›
Ba health and care management
Program Description
Health and care management
to ensure an optimum supply for the sick and in need of care, provides the healthcare stakeholders with complex requirements. Demands of a modern society to a high quality health care to be met. Diseases and care to take, at the same time the lack of qualified nursing and management staff is increasing. To face these challenges and find solutions, the task of the health and care managers is / -Innen. The program provides the necessary professional knowledge, skills and abilities.
study objectives
You get by studying management competencies in health care and include efficient approaches, methods and tools of human resource management and development team to implement.
They are trained academically and can align the nursing task fields of content, shape, monitor and further develop in the future in a healthcare facility. Here analyze and manage processes and can implement business planning and costing.
The training assistance of study is carried out in close cooperation with vocational schools. In addition to the academic degree "Bachelor of Arts" will acquire a degree in Caregiver / in, health and nursing / in or as a health and pediatric nurses / in.
Facts
beginning: October 1 (in the winter term)
Duration of study: Depending on prior learning 5 or 9 semesters
cost example: During training 205.00 euros per month or part-time 369,00 Euro per month
financingEg student loans, KfW Student Loan, DKB student loan, scholarship, etc. We are happy to help!
Graduation: Bachelor of Arts (BA)
access: College admission or authorization on a mind. two years of vocational training and then three years of full-time job in a field relevant to the study area. In the accompanying training form the (technical) secondary school and a training course must be demonstrated.
Application: Online application via the website
CV and a digital passport photograph
Certificates (certified)
Validation of previous activities (certified)
Acre
The Acre College of Human Sciences is a nationally recognized private university based in Berlin. The undergraduate programs offered in Emergency Practitioner, Health Education, Gesundheitsund Care Management and International emergency and disaster relief.
Small seminar groups, practical projects and professional and personal service characterize the study. Our students come from different organizations and healthcare companies.
profile
The study prepares you for specialist and managerial positions in the health care sector. The necessary scientific basis and professional knowledge, skills and methods are taught in this course. parallel for beginners takes place the training in cooperation with vocational schools in the elderly, health care and nursing or health and pediatric nursing.
Your career opportunities
With the bachelor's degree program receive the academic, internationally recognized degree. The Bachelor allows you entry into a leadership role in health management or study at Masters level continue.
Your career opportunities include:
Management tasks in healthcare facilities
Care Expertise, Controlling
Quality and project management
Case management
Marketing and Public Relations
People Development and Organisation
Study modules and content
It will be awarded in accordance with ECTS * 180 credit points (cp). A cp corresponds to a workload of 30 hours.
Study Phase I, inter alia in:
Scientific work
Care in Context
Nursing theories and nursing diagnostics
Basics right
Empirical Social Research
Applied Nursing Research and Epidemiology
practice project
Phase II study, inter alia in:
Public Health
Social and labor
Economics, financial planning and controlling
Marketing and Communications
Management, organization and personnel development
Case Management (elective course)
Project Management and Practice Transfer (elective)
Quality and Risk Management
Bachelor thesis
The contact to the teachers hold the most modern technology, inter alia via the Virtual Classroom.
Study forms and duration
The study is available for beginners or experienced professionals.
Education and Studies
Beginners during training in 9 semesters Our partners for training assistance variant can be found on our website listed.
Jobs and Study
Experienced part-time in 5 semesters
Last updated Mar 2020
About the School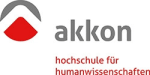 Die Akkon-Hochschule ist ein Lern- und Arbeitsort, der die berufliche und persönliche Entwicklung von Lernenden und Lehrenden sowie ihr persönliches soziales Engagement unterstützt.
Die Akkon-Hochschule ist ein Lern- und Arbeitsort, der die berufliche und persönliche Entwicklung von Lernenden und Lehrenden sowie ihr persönliches soziales Engagement unterstützt.
Read less